June 4, 2020
FDA Clears Transit Scientific's XO Score Angioplasty Scoring and Cutting Platform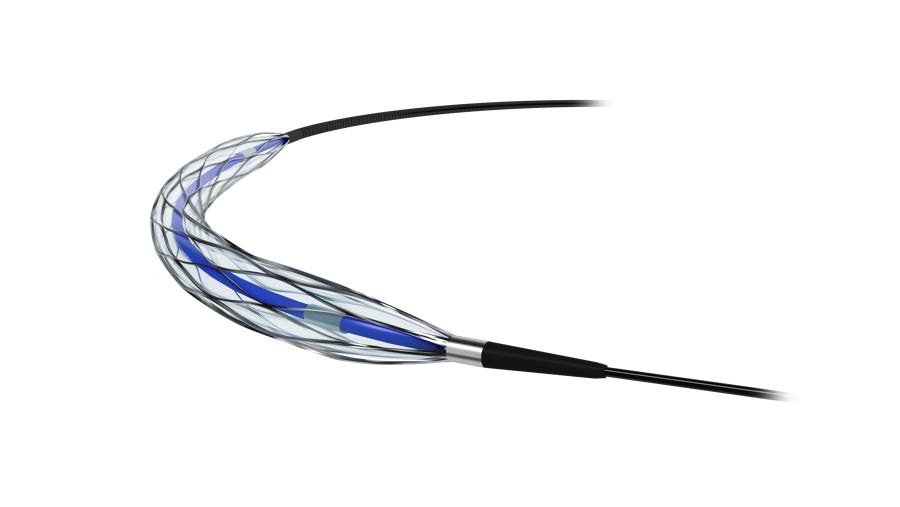 June 4, 2020—Transit Scientific announced FDA clearance for the XO Score percutaneous transluminal angioplasty (PTA) scoring sheath platform for use in iliac, iliofemoral, popliteal, infrapopliteal, and renal artery disease plus synthetic and/or native arteriovenous hemodialysis fistula.
According to the company, the XO Score is a low-profile, flexible, metal-alloy exoskeleton with a balloon-expandable scoring section. One XO Score sheath can be used with a number of 4- to 8-mm diameter and 20- to 40-mm long balloons. The XO Score platform has up to 22 scoring/cutting struts that lay flat while tracking but rotate 90° during balloon inflation to score and cut 0.25, 0.35, or 0.50 mm deep. The struts rotate 90° back during deflation.
The FDA clearance covers the 6.3-F XO Score in 65- and 125-cm working lengths with 0.25-, 0.35-, or 0.50-mm scoring or cutting depths to enable precise dilation across a range of lesion types. The company is developing 3-, 4-, and 5-F over-the-wire and rapid-exchange XO Score versions for smaller vessel and coronary use.
"XO Score is a new way to prep the vessel," commented Jihad Mustapha, MD, in the company announcement. "The low-profile design is smooth for tracking to and from the treatment site. But, during balloon inflation, XO Score struts rotate 90° on edge to score and cut. Upon deflation, the XO Score rewraps back-to-flat for smooth withdraw." Dr. Mustapha is an interventional cardiologist at Advanced Cardiac & Vascular Center in Grand Rapids, Michigan.
On May 12, the company announced that the FDA cleared Transit Scientific's XO Cross 2-, 2.6-, and 3.8-F low-profile, high-torque, and high-push nontapered microcatheter platform.
---
---