October 7, 2020
Reflow Medical's Wingman Crossing Catheter Approved in Japan to Treat Peripheral CTOs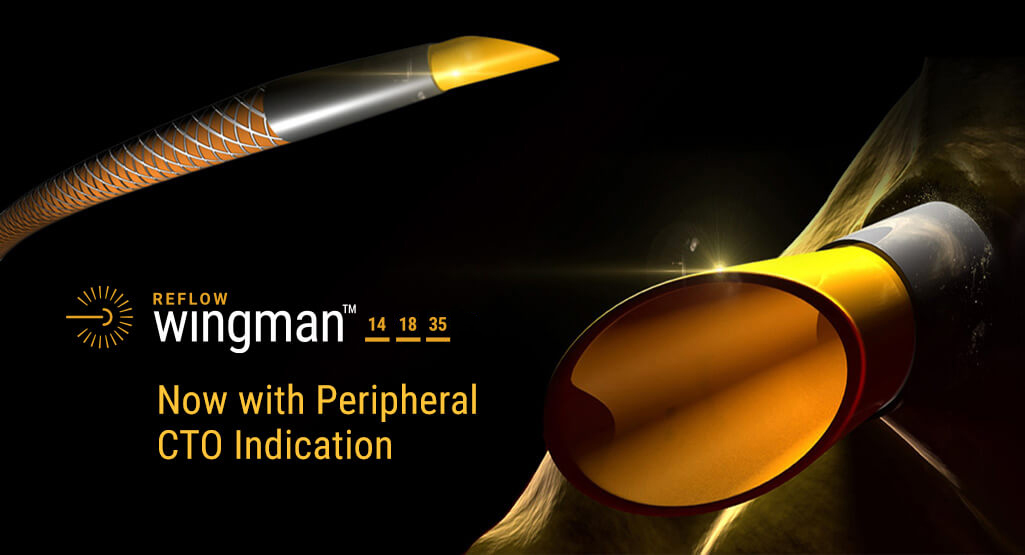 October 7, 2020— Reflow Medical, Inc. announced that Japan's Pharmaceuticals and Medical Devices Agency (PMDA) has approved the company's Wingman chronic total occlusion (CTO) catheter. Reflow Medical has partnered with Century Medical, Inc., a medical device distributor based in Tokyo, Japan, to introduce the Wingman CTO catheter in that market.
PMDA approval in Japan was supported by the Wing-IT CTO clinical trial, a prospective, international, multicenter study that treated 85 patients and followed them for 30 days. In March 2020, Reflow announced FDA clearance of the Wingman crossing catheter for the expanded CTO indication after completing the Wing-IT clinical trial.
In the study, which commenced in 2018, the Wingman catheter demonstrated a 90% crossing rate after up to two previous guidewires could not cross the CTOs, meeting the trial's primary safety and efficacy endpoints.
The Wing-IT study was led by Principal Investigator John R. Laird, MD, of Adventist Heart and Vascular Institute in St. Helena, California.
"Reflow Medical focuses their efforts on developing technologies based on physicians' needs," commented Dr. Laird in the company's announcement. "We rely on Reflow for real clinical evidence when utilizing the technology."
The Wingman catheter is designed to cross peripheral CTOs using an extendable beveled tip. The physician controls the advancement and activation of the tip to create a channel to help penetrate the occlusion with a guidewire, enabling further treatment of the lesion with therapeutic devices. The catheter is compatible with the physician's preferred guidewire and procedural technique, advised the company.
---
---