September 1, 2020
Veryan Launches BioMimics 3D Vascular Stent System in the United States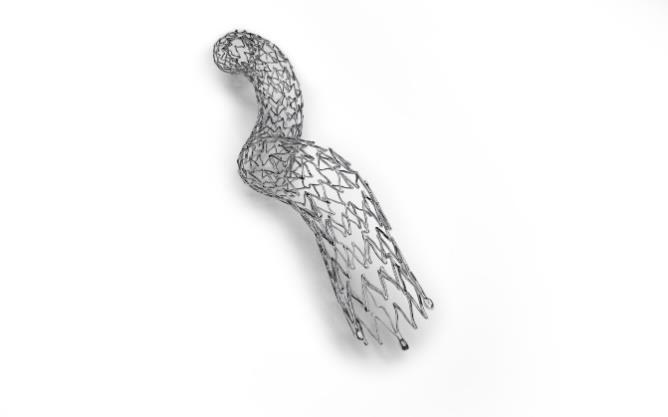 September 1, 2020—Veryan Medical announced the United States launch of the company's BioMimics three-dimensional (3D) vascular stent system, which features a self-expanding, nitinol stent with a helical centerline design.
The company also announced that the first commercial implantation of the BioMimics 3D device in the United States was performed on September 1 by Bret Wiechmann, MD, of Vascular and Interventional Physicians in Gainesville, Florida.
According to the Veryan, the device has been evaluated in the MIMICS clinical research program that has enrolled more than 1,750 patients worldwide. The prospective, single-arm, multicenter MIMICS-2 study evaluated the safety and effectiveness of the BioMimics 3D device in the treatment of patients with symptomatic atherosclerotic disease of the femoropopliteal artery.
The 3-year follow-up data from MIMICS-2 were presented by Professor Thomas Zeller, MD, at CX 2020 Live, the virtual Charing Cross Symposium, which was held online May 26 to June 25. Prof. Zeller reported that freedom from clinically driven target lesion revascularization for the BioMimics 3D system was 81% at 3 years.
In Veryan Medical's announcement, Prof. Zeller commented, "I have been using BioMimics 3D routinely in my clinical practice for several years and I am delighted that my United States colleagues will also now have this opportunity. The 3-D helical shape of the stent promotes swirling blood flow, a protective phenomenon that occurs naturally in the vasculature, but which can be disrupted, predisposing to atherosclerotic disease and neointimal formation at the site of vascular intervention that can lead to restenosis and the need for reintervention."
He continued, "Data from the MIMICS Clinical Program, including those from our MIMICS Randomized Clinical Trial, comparing the performance of the helical-shaped BioMimics 3D to that of a straight stent, support the clinical benefits of Veryan's unique stent design that promotes swirling blood flow and improves biomechanical performance in the stented segment. I'm sure that the stent will not just be a valuable addition to my United States colleagues' treatment options, but for many will become their primary therapy for femoropopliteal disease."
Dr. Wiechmann commented in the company's press release, "We are thrilled to have the opportunity to implant the first BioMimics 3D stent in the United States in anticipation of the full commercial launch. The three-dimensional, helical design is unique in this stent category and has demonstrated promising results, as evidenced by the recent release of the 3-year follow-up from the investigational device exemption pivotal study. The femoropopliteal segment still represents a significant challenge in the treatment of patients with peripheral artery disease, driven by a concern for long-term durability and improved efficacy. We are excited to be able to offer this unique stent as part of our treatment algorithm to help address these challenges."
---
---