September 1, 2020
Merit Medical Announces US Availability of Bluegrass Vascular's Surfacer System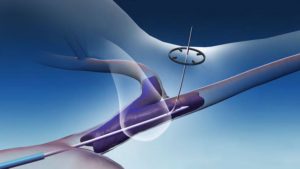 September 1, 2020—Merit Medical Systems, Inc. announced the availability of Bluegrass Vascular Technologies' Surfacer Inside-Out access catheter system in the United States. Merit Medical is the distributor of the Surfacer Inside-Out device in North America and Europe.
The Surfacer system is intended to obtain central venous access to facilitate catheter insertion into the central venous system for patients with upper body venous occlusions or other conditions that preclude central venous access by conventional methods.
In February 2020, Bluegrass Vascular announced FDA de novo clearance of the device. The Surfacer system received European CE Mark approval in 2016.
In May 2020, the company advised that the first commercial cases in the United States were performed by Ehab Sorial, MD, and Ajit Nair, MD at Santa Clara Valley Medical Center in San Jose, California. The procedures treated two hemodialysis patients with central venous obstructions, one of which had limited access options. Dr. Sorial and Dr. Nair commented in Bluegrass Vascular's press release, "The Surfacer system provides us with a safe and effective option for obtaining right-sided central venous access in patients with venous obstructions, enabling us to preserve secondary central veins and avoid alternative access procedures, which are not as effective and have a higher risk of complications."
According to Merit Medical, the Surfacer system is designed to gain central venous access by inserting the device through the right femoral vein and navigating it up through the patient's venous system with an exit point in the right internal jugular vein, the optimal location for placing a central venous catheter. This proprietary "inside-out" approach supports the achievement of permanent arteriovenous access.
Additional clinical benefits of using the Surfacer system were seen in its first-in-human study, which is the subject of an article by Adrian Ebner, MD, et al published in June 2013 in Endovascular Today. Results showed that 100% of patients experienced successful central venous access placement, and 100% of patients maintained central venous access patency through long-term follow-up. No device-related adverse events were reported at short- or long-term follow-up, noted Merit Medical.
On July 16, Bluegrass Vascular announced that the results of its prospective, multicenter SAVE-US study were published online by Principal Investigator Mahmood Razavi, MD, et al in The Journal of Vascular Access. The FDA-approved investigational device exemption SAVE-US study is designed to evaluate the performance and safety of the Surfacer Inside-Out access catheter system when used to facilitate central venous access in patients with thoracic central venous obstructions.
---
---