October 9, 2020
SAVE Registry Data for Bluegrass Vascular's Surfacer Inside-Out Published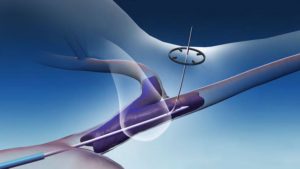 October 9, 2020—Bluegrass Vascular Technologies announced the publication of results from the SAVE registry for the company's Surfacer Inside-Out access catheter system. The data were reported by Maurizio Gallieni, MD, et al in Journal of Vascular and Interventional Radiology (JVIR; 2020;31:1654-1660).
The SAVE registry was designed to evaluate the safety and performance of the Surfacer Inside-Out for the treatment of patients with thoracic central venous obstruction (TCVO) requiring central venous access. As reported in JVIR, central venous catheters were successfully placed in 29 of 30 (96.7%) patients with no device-related adverse events, catheter malposition, or intra- or postprocedural complications reported. The mean time from device insertion to removal for the 29 patients who successfully completed the procedure was 24 ± 14.9 minutes (range, 6-70 minutes). The authors concluded the Surfacer Inside-Out system provides an alternative option to restore right-sided central venous access in patients with TCVO.
"The publication of the results of the SAVE registry expands and strengthens the clinical evidence, confirming the role the Surfacer system has in helping to establish central venous access in patients with venous obstructions," said Dr. Gallieni, co-lead author and Director of Nephrology and Dialysis at the University of Milan, Spain in the company's announcement.
"The SAVE registry achieved its desired objective of confirming the safety and effectiveness of the Surfacer system to gain central venous access in patients with central venous occlusions," commented co-lead author Vladimir Matoussevitch, MD, in the press release. Dr. Matoussevitch is the Executive Senior Physician of the Department of Vascular and Endovascular Surgery, Head of Vascular Access Unit at the University of Cologne in Cologne, Germany.
According to Bluegrass Vascular, the Surfacer Inside-Out system allows physicians to gain central venous access by inserting the system through the right femoral vein and navigating it up through the patient's venous system with an exit point in the right internal jugular vein. This allows for the placement and maturation of permanent arteriovenous access options that are associated with improved patient outcomes and reduced cost of care for both hospitals and hemodialysis providers.
In the United States, the Surfacer system has FDA de novo device clearance based on the results of the SAVE-US investigational device exemption study. It is CE Marked in Europe. The device is distributed in North America and Europe by Merit Medical.
---
---